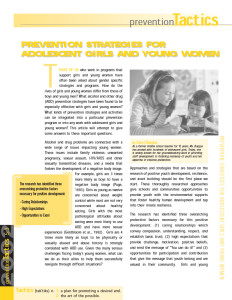 Series:
Prevention Tactics
Vol. 5, Iss. 3 Topic:
Cultural Competence and Responsiveness
,
Women and Girls
How do the lives of girls and young women differ from those of boys and young men? What alcohol and other drug prevention strategies have been found to be especially effective with girls and young women? What kinds of prevention strategies and activities can be integrated into a particular prevention program or into any work with adolescent girls and young women? This article gives some answers to these important questions.